Some Good Reasons to Join Us At Cycle Bar Leaside This Weekend
Are you looking to escape winter's (hopefully fading) icy grasp and pretend we're in full-fledged spring mode already? Well look no further, we've got you covered – You're invited to jump in the saddle with us and partake in our first ever Wellness Day!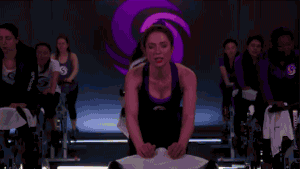 We are thrilled to be partnering with CycleBar to host an afternoon of cycling fun this Saturday, March 25th.  CYCLEBAR is a new, state-of-the-art cycling studio located in Leaside. With a $35 donation, you can participate in Memory Ball's first ever Wellness Day and in doing so help to raise funds for Alzheimer's disease and other forms of dementia, as all proceeds from this exclusive charity ride go to the Alzheimer Society of Toronto. Before the ride, we'll have a talk by Dr. Kirsty Gaylor, naturopath, on how to incorporate healthy habits into your lifestyle. Be sure to arrive at 12:15pm to catch Kirsty. Plus, everyone who attends will get a free RYU Plush Gym Towel ($20 value) as a free gift! To learn more about this exciting charity event, check out our  Memory Ball X Cycle Bar Leaside Facebook event page and make sure to reserve your spot online.
Why Wellness Day? Well, there are so many reasons! Getting active can have a significant impact on several aspects of one's life, including your mood, cardiovascular strength, mental health, sleep, memory, and overall wellbeing. Of particular importance to Memory Ballers are the benefits that physical activity can have on one's brain health. There is compelling evidence to suggest that people who are physically active have a lower risk of developing Alzheimer's disease, can improve their memory, and are less likely to experience a decline in their cognitive function as they age. So with all of this in mind, we hope to see you at CycleBar Leaside this Saturday to spin the day away in preparation for Memory Ball!
So, what are you waiting for? Sign up to rock the ride! http://bit.ly/2mLjNab